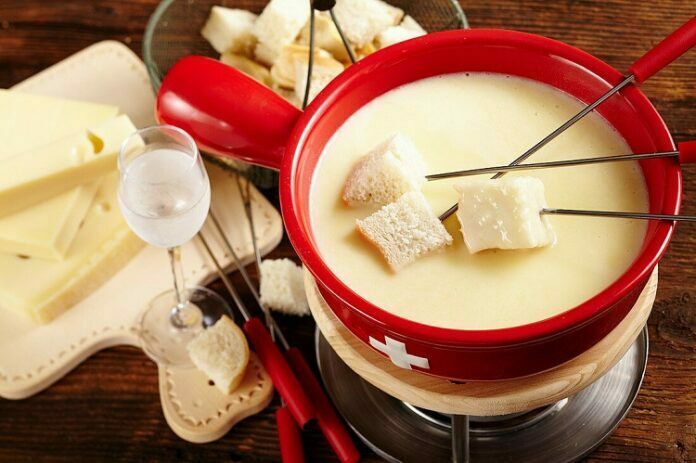 Delicious fondue is the ultimate comfort food that warms your heart and your soul. This national meal of Switzerland gained its popularity back in 1950 and lucky for us – it's still around. This delicious dish has a lot of variations nowadays – both sweet and savory versions. However, the original idea for the fondue is still one of the best ideas out there.
What is fondue and how is it made?
If you still haven't discovered the complete pleasure fondue is, and you're wondering what is it and what is the big deal about this meal, search no more. You are about to discover some yummy news.
Fondue is a traditional Swiss meal made out of completely melted creamy cheese combined with some delicious white wine and cherry brandy. And if you think that's some breathtakingly delicious food, you're going to be even more stunned when you discover that this cheese heaven is served with some delicious bread. Cheese is melted in a special fondue pot called "caquelon" and it's tasted by dipping bread with special fondue forks that are long-stemmed with a round handle.
This dish is made and served in the same pot that's located on the metal pad with a heat source (it can be either candles or a heater). This heat source keeps melted cheese at the perfect temperature the entire time you need it.
What is the best fondue recipe?
There are a lot of fondue recipes out there, everyone is adjusting the original one to their preferences and sharing it with the rest of the world. But what is the best recipe for the original Swiss fondue?
The most important thing is to start with the right cheese. The most used cheese in Swiss fondue is Gruyere with the addition of one more creamy cheese, mostly Emmental or Vacherin Fribourgeois. It's quite obvious that the cheese is the most important part of this meal, but what are some other ingredients that you need to get the best fondue? Here is a simple, yet very delicious fondue recipe.
The Swiss Fondue recipe
What you'll need:
a garlic clove

white wine (200 ml)

Gruyere cheese (200 g, cut into pieces)

Vacherin Fribourgeois cheese (200 g, cut into pieces)

cornstarch (2 smaller spoons)

cherry brandy (adjust it to taste, small amounts)

spices as desired (pepper, salt, chili…)

bread (cut into squares)
How to prepare the best Swiss fondue:
Before anything, rub a fondue pot with a garlic clove quite generously. After that add your already cut cheese mixed with white wine and cornstarch and mix on moderate heat until the cheese is completely melted. Add just a bit of cheery brandy, and season it as desired. Keep it at medium heat even after it's done in order to keep your cheese melted. Stick some bread onto the fondue forks and enjoy.
If you think this sounds delicious but don't have the time to put this kind of effort, you can always order some of the best fondues directly to your home with just a few simple clicks on Fasivery. You can enjoy the perfect Swiss fondue in the comfort of your own home whenever you want it.